The Laurels of Athens - A Skilled Nursing & Rehabilitation Center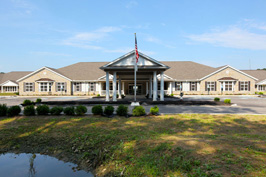 Constructed in 2011 within 58 acres of beautiful wooded surroundings, The Laurels of Athens is a new, 111-bed skilled nursing and rehabilitation facility with 99 private rooms, and featuring an additional 12 newly renovated Private Rehabilitation Suites. The Laurels of Athens welcomes both short-term and extended-stay guests. The location features all private rooms, with a private full bathroom in each. We are located within two miles of the local hospital and the heart of Athens, and offer easy access to U.S. route 33.
Our short-term rehabilitation programs include physical, occupational and speech therapy and are designed to help our guests move from hospital to home as quickly as possible. Our therapy staff works closely with guests' personal physicians to design customized rehab care plans. Guests participate in rehabilitation within our state-of-the-art rehab gym, featuring 1,400 sq. ft. of space.
We also offer our extended-stay guests the most extensive medical care outside a hospital, starting with our own medical director. We recognize, however, that a good quality of life must include activity and meaningful relationships as well as good health, so we offer a full schedule of activities, events and holiday celebrations that often include guests' families. Many of these activities will take place in our expansive activity room, with more than enough room for friends and family. During free time, guests are invited to enjoy our enormous courtyard or relax in one of the many guest lounges located throughout the facility.
Underlying all we do for our guests is our guiding philosophy, The Laurel Way of Caring. This special way of thinking, reflected by every member of our carefully selected staff, ensures that every guest will be offered respect, dignity, companionship and compassion every day.