About the Area (Athens, OH)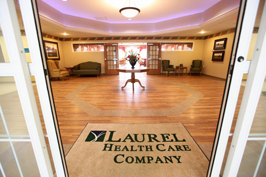 The Laurels of Athens is located just 2 miles north of the heart of Athens within the foothills of Appalachia. With an easy 2 mile drive to US route 33, friends and family can visit anytime they like. The facility sits on 58 acres of beautiful woods, with lovely porches to relax on.
Nearby is Ohio University, which includes a College of Medicine, a School of Nursing and a Health Administration Program. Athens County also houses Hocking College. Athens offers many forms of entertainment including street fairs, farmers markets, performances, history and much more. This city also features local sustainable food through programs such as the 30 mile meal dining program.
Also nearby is Hocking Hills which offers all kinds of outdoor activities, ranging from camping to zip-lining. This recreational destination is a prime target for visitors hoping to escape the hustle and bustle of the modern day life.
Nelsonville also offers a wonderful array of activities, mainly focused around the arts. Many art lovers participate in workshops and demonstrations, or simply choose to stroll through Nelsonville's Historic Square Arts District.
Art, history, and outdoor activities thrive in this area, nestled inside the beautiful Appalachian hills.
Hospitals:
Areas of Interest: